WV Book Team: 'Love Palace' warms a cold night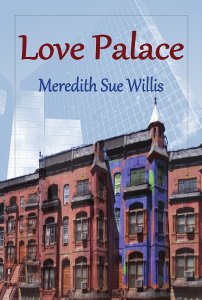 "Love Palace" by Meredith Sue Willis. Irene Weinberger Books/Foreverland Press (2014). 252 pages.
CHARLESTON, W.Va. — Christmas is coming and you're just about ready for Santa, right?
What about the aftermath, when the presents are opened, eggnog sipped, when you turn to the long stretch that is January? What to do? I suggest you consider a new read: Meredith Sue Willis' quirky, fun novel "Love Palace."
The Love Palace, a former brothel (and the name just stuck), is a settlement house for runaways, derelicts and struggling blue-color workers — anyone in need of a roof over head, a bed and some food.
Besides the resident colorful "clients," the staff is wacky in their own right, and the main character, 42-year-old Martha, arrives on its doorstep pretty down and out herself. But she's not there to ask for a meal — facing eviction when she defaults on her apartment rent after leaving her job, she's wooed by handsome, though a bit neurotic, Robby, to come to the Love Palace to be its executive director.
Jesus arranged the whole thing, he assures her. Martha is pretty sure Jesus didn't arrange anything, but nonetheless, Robby, who just turned 21, eventually becomes her lover, pulling her into a strange and intriguing life.
Willis' tone throughout the novel holds at a steady tongue in cheek, rendered with humor and irony through Martha, but the issues the characters face are consistently universal: Everyone longs for acceptance, inclusion and love, but most of all a safe place to call home. Martha turns out to be a natural at organizing the mess that is the Love Palace and the citizens there come to trust her advice.
Trouble soon comes to the renewed settlement, as no one knows, or seems to care to find out, who owns the building that houses the Love Palace.
Martha realizes, however, that discovering that person is crucial. The Love Palace is the remainder of the block that is slated for urban renewal. Knowing who owns the building means a person who could be persuaded to stop the demolition, which will leave everyone homeless again. And just who is stealing money from the Love Palace's bank account?
To deepen the mystery, a "Reverend John," who seems to adhere to Christianity "light," has a magnetic hold on everyone at the Love Palace, and, for a while, that includes Martha. His role in this needy community is unclear, yet everyone's adoration of the man, who seems like a Reverend Jim Jones at times, is enduring.
One of my favorite characters in this wild romp of a story is Martha's therapist Dr. Landowska. In serious need of counseling, Martha wails when she can no longer see Dr. L unless she pays on her considerable bill.
Her job at the Love Palace allows Martha to pay, and her counseling sessions continue. "Marta," as the doctor calls her, is one of the few characters who offers her a straight story and answers, sometimes much to Martha's chagrin. It's through Dr. L that we hear Martha's deepest fears and hear about her troubled past, which led directly to her conflicted life.
Despite her low self-esteem, Martha is revealed as a strong character, who nevertheless complains constantly and strongly rejects her role as leader. As I read, I began to wonder if there was a Martha in history or Scripture that this character is modeled on. When I looked up information on Martha from the Bible, I discovered her name is actually translated from Marta, as Dr. L referenced Martha.
Then in The Good News Magazine, I found an article about Martha and Mary, sisters who were friends of Jesus.
In "Love Palace," Martha has a sister named Mari. The article describes the two biblical ladies' personality traits, which loosely link to Willis' fictional characters.
At the end of the book, I was reluctant to leave this misfit family, and Martha in particular. She seeks to belong, in the same endearing way we all do. Then, too, the novel is at times a bit spicy (it is a "love" palace after all). Such spice might just warm your toes on a cold, bleak January day.
Willis, a native West Virginian, has lived in New Jersey for many decades, but she hasn't lost the Appalachian talent for telling a good tale nor how to capture a reader with an original story of love.
Cat Pleska is a writer, educator and publisher. She is the president of Mountain State Press and an essayist at West Virginia Public Radio. Her website is www.catpleska.com, and she can be reached by email at catpleska@aol.com.